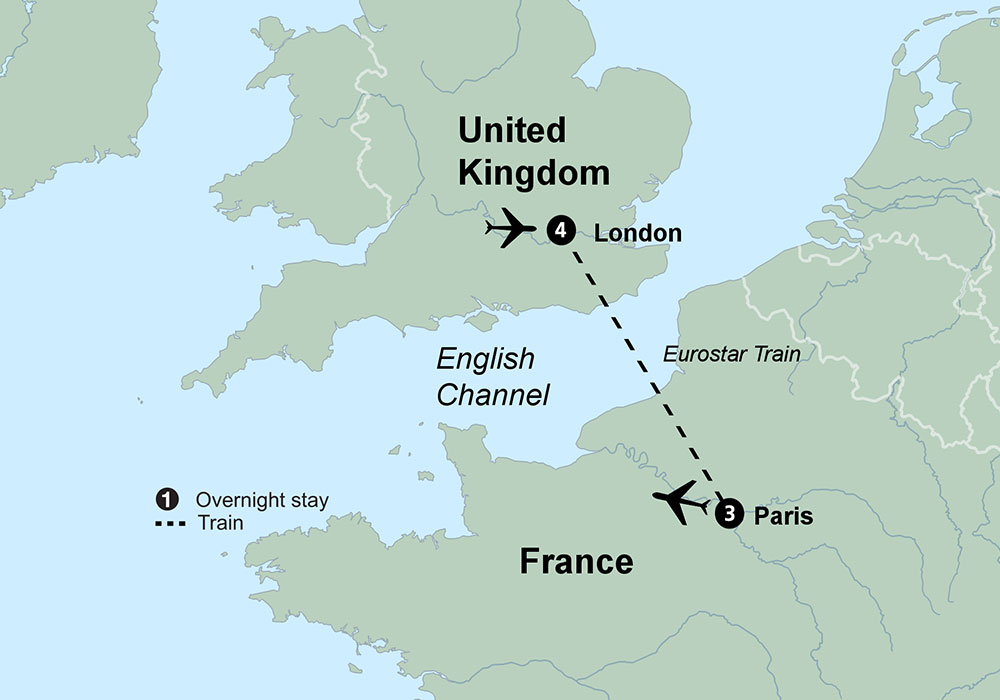 Hotel Accommodations
London: Grande Tower Bridge Hotel
Paris: Marriott Rive Gauche Hotel
9 Meals: 6 Breakfast and 3 Dinner
Sightseeing listed in the itinerary.
*Rate is per person, land only, double occupancy, tour inclusions and available options may vary based on departure date.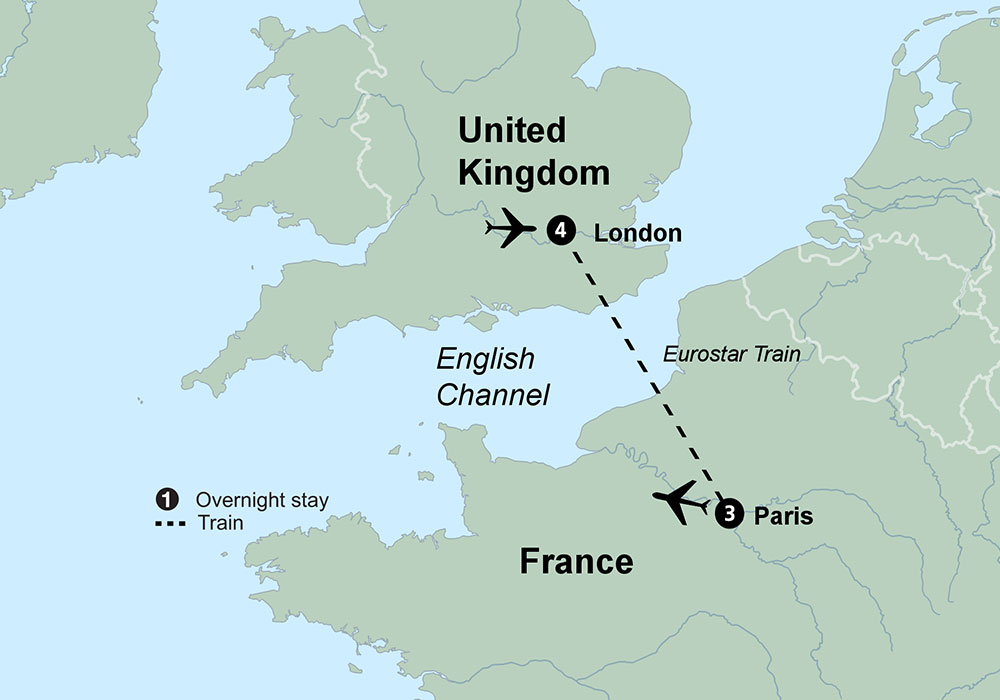 Day 1: Overnight Flight
Experience two of the world's most popular cities on one fabulous tour. Enjoy unpacking just once in each city for a relaxing journey as you discover the beauty and allure of both London and Paris. Begin your vacation with an overnight flight to London. (Tour prices are land only rates based on per person, double occupancy. Please call for airfare pricing.)
Day 2: London, England - Tour Begins
our tour begins in London, the United Kingdom's cosmopolitan capital. This evening, experience a classic British pastime when you join your fellow travelers for a special welcome dinner at a traditional pub, complete with an ale tasting. Dinner is included today.
Day 3: London
Join a local expert for a day of exploration in London. Begin with a panoramic tour highlighting Trafalgar Square, the Tower of London, Big Ben, Buckingham Palace and the changing of the guard (if held). Enjoy a guided tour of St. Paul's Cathedral,* an architectural masterpiece famously known for the "wedding of the century" – Prince Charles and Lady Diana. Spend leisure time at Harrods, the jewel in the crown of London department stores…don't miss its world-famous food hall, a diner's paradise! This afternoon, it's your choice! Perhaps you'll choose to step back to wartime Britain while exploring the Churchill War Rooms, the secret underground center of Britain's government during WWII. Or maybe you would prefer to tour Westminster Abbey,* the coronation church of Britain's monarchs from William the Conqueror to Elizabeth II. Today breakfast will be included.
Day 4: London
After breakfast, enjoy a day to explore London at your leisure. You may choose to take an optional excursion to Windsor Castle. Originally built to guard the city of London, Windsor Castle has been the home of kings and queens for nine centuries and is the oldest royal residence still in use today. Today breakfast will be included.
Day 5: London - Eurostar Train - Paris, France
Sit back and relax as you depart London and travel on the innovative Eurostar High Speed Train to France. Arrive in the "City of Light," Paris. Tonight, celebrate your arrival in Paris with a special dinner at the Paradis Latin,** the city's oldest cabaret theatre. Enjoy a sumptuous dinner complete with wine, champagne and a delightful show. Today breakfast and dinner will be included.
Day 6: Paris
Come to know the dramatic highlights of Paris your way — by coach or by metro! You may choose to take a splendid panoramic coach tour that includes a stop to explore the impressive Notre Dame Cathedral. Or, for a truly Parisian experience, take in some of the most iconic sights by metro. Either way you'll see the Arc de Triomphe, Notre Dame Cathedral, Champs-Elysees, Place de la Concorde, and the magnificent Place Vendome with a local guide. Write your own story during a free afternoon. Perhaps you will choose to partake in an optional guided tour at the famous Louvre; indulge in some of the world's best shopping on the Champs-Elysees; or simply do as the Parisians do and sit at a sidewalk café and watch the beauty that is Paris go by. Today breakfast will be included.
Day 7: Paris
Today you are free to enjoy the city however you would like. Perhaps you will join an optional excursion to Louis XIV's magnificent Palace and Gardens of Versailles and relive history as you walk through the various rooms of the State Apartments, including the Queen's bed chamber and the famous Hall of Mirrors. Tonight, sample delicious French cuisine and witness breathtaking views during dinner at the Eiffel Tower. Following dinner, enjoy a romantic Seine River cruise against a backdrop of Paris' glittering skyline. Today breakfast and dinner will be included.
Day 8: Paris - Tour Ends
Your tour ends, leaving you with many pleasant memories of a wonderful vacation. Today breakfast will be included.
Touring Date

Land Only

Land + Air

Single
(Land Only)

Single
(Land + Air)

9/6/2017 - 9/13/2017

$2,899

9/13/2017 - 9/20/2017

$2,899

9/20/2017 - 9/27/2017

$2,899

9/27/2017 - 10/4/2017

$2,899

10/4/2017 - 10/11/2017

$2,799

10/11/2017 - 10/18/2017

$2,799

10/18/2017 - 10/25/2017

$2,699

10/25/2017 - 11/1/2017

$2,699

11/1/2017 - 11/8/2017

$2,599

1/24/2018 - 1/31/2018

$2,199

2/21/2018 - 2/28/2018

$2,199

3/7/2018 - 3/14/2018

$2,599

3/14/2018 - 3/21/2018

$2,699

3/21/2018 - 3/28/2018

$2,699

4/4/2018 - 4/11/2018

$2,799

4/11/2018 - 4/18/2018

$2,799

4/18/2018 - 4/25/2018

$2,799

4/25/2018 - 5/2/2018

$2,799

Note: Departures appearing above in green are guaranteed to operate by the tour operator.

Airfare Disclaimer
A NOTE ABOUT AIRFARE: We encourage you to buy your airfare from the tour operator, because if your tour cancels then your airlines tickets will be covered. Purchasing flights separately at a lesser rate and incorporating it with a Non-Guaranteed Departure Date can result in loss of total cost of your flight investment. Depending on the fare rules, flights may be Non-Refundable and/or Non-Transferable. Neither the tour operator and/or Atlas Cruises & Tours will be held responsible for loss if a tour is cancelled for Lack of Participation.

Documents
TRAVEL DOCUMENTS: Necessary Travel Documents such as Passports and Visas is the responsibility of the traveler. Passports must be valid six months from your return travel date.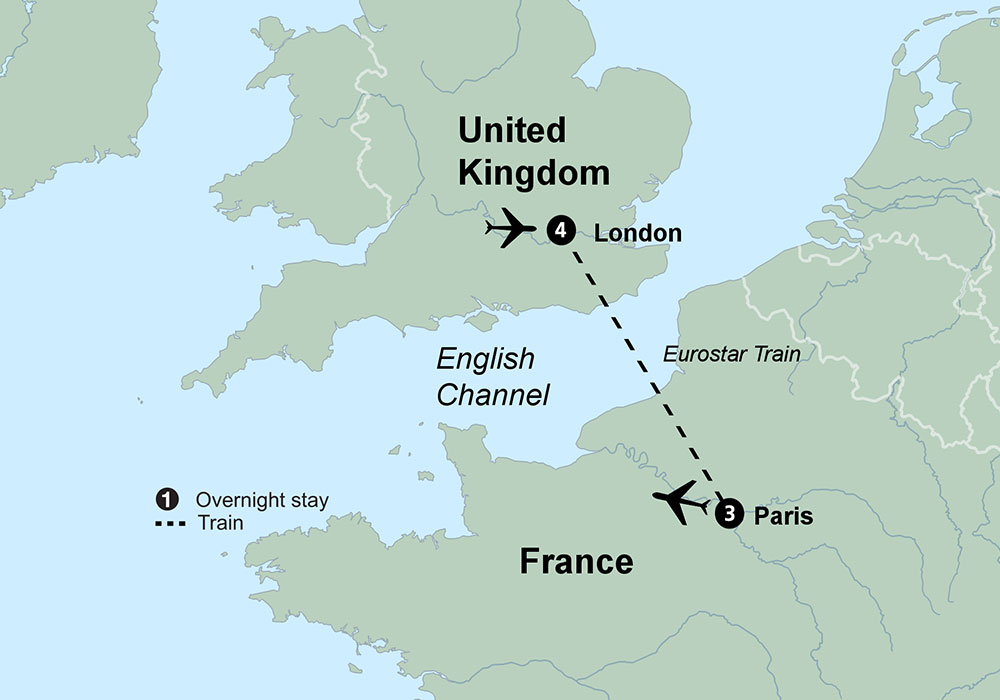 Enjoy one of London's spectacular theatre performances.
You choose your tour: Explore the Churchill War Rooms or Westminster Abbey.
Cruise along the Seine River against a backdrop of Paris' glittering skyline.
Cross the English Channel aboard the innovative high speed Eurostar Train.
Dinner at the Eiffel Tower features wonderful French cuisine and breathtaking views of Paris.
Tour prices are land only rates based on per person, double occupancy.

Some dates may feature various changes in hotels, sightseeing and inclusions.

Please confirm your specific itinerary at the time of booking.

Government taxes and fees are additional. Land rates are guaranteed at time of deposit.

Certain taxes and fees are to be paid upon exiting the country in local currencies.

Airfare is available through Collette Vacations at an additional cost.

To complete your vacation, we include roundtrip airport-to-hotel transfers when purchasing Collette airfare with your tour.
If you have arranged for your own air, we are pleased to provide you the option of purchasing these transfers.

Please note that all transfers will leave at pre-scheduled times.

Days of features are interchangeable.